Hi everyone,
When we talked about what Sunday Funday categories we wanted to have and decided to write about GuyBoss, I thought about men who inspired me and the first person to pop into my head was him: Jamie Tworkowski. I don't think this name rings a bell for most people and that's a shame so I'm gonna introduce him to you.
Jamie is an author and he wrote the book "If you feel to much", but more important he's the founder of To Write Love On Her Arms, short twloha, a non-profit organization, that helps people who struggle with self-harm, depression and addiction or are suicidal. It all started when he shared his friend Renee's story on the Internet 10 years ago. Renee had been thinking about committing suicide, self-harmed and also struggled with addiction. She went to a treatment center to find help and Jamie started selling shirts to help her pay for her treatment. The story, which was called "To Write Love On Her Arms" got a lot of attention and soon Jamie received messages from people who had similar problems.
"We are all people in need. We are not perfect. We are not machines. We make mistakes. We need grace. We need compassion. We need help at times. We need other people. And that's okay"
Finally, in 2007, TWLOHA became on official non – profit organization. Jamie Tworkowski was only 26 back then. Nowaday's they still try to help people, by giving them a voice and sharing their stories on their blog, to let them no there are other people going through difficult times as well and they're not alone. Also they host meetings in different cities where people can come and find help.
"The dream is you never giving up on your story, because no one else can play your part"
They still sell merch with their logo and different inspirational phrases on it and donate the money to recovery facilities. One of the most important missions is also to raise awareness for mental illness so it loses it's stigma and people know they're not alone and don't have to be ashamed. That's why many musicians such as Paramore, Boys Like Girls, Miley Cyrus and One Republic support them and sometimes  wear their shirts to play gigs, for example at warped tour, where twloha also sells their merch.
 In 2012 Renee's Story was made into a film with Kat Dennings, called" To write love on her arms" as well.
Last year Jamie Tworkowski wrote his book "If you feel to much: thoughts on things found and lost and hoped for". I haven't read it myself yet but it's supposed to be really beautiful and inspirational and people find hope and understanding. It's not one story it's more like thoughts on different things and apparently it's a very personal book for Jamie.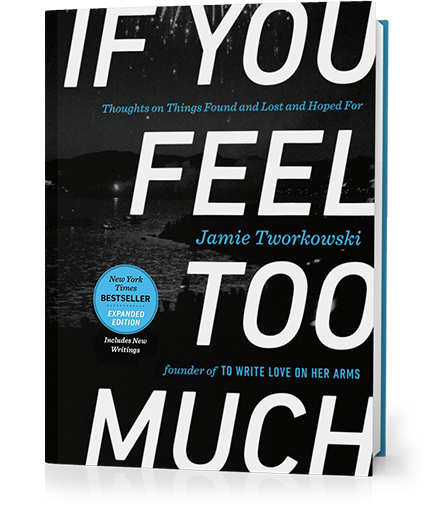 People who met him say about him that he has a huge heart and is a very loving person. With his words he touches people, makes them feel understood, accepted and less alone.
The reason why I admire him so much is, that just like him, I know people who struggle with mental illness, but I never know what to do or how to help them.  He actively did something about it, he didn't only help his friend but a lot of other people by giving them a safe place where they can go , find help and get new hope. He also raised awareness, so society would realize that people with a mental illness aren't crazy, but normal humans who go through pain. Mental illness and suicide is a thing everyone is directly or inderictly confronted with sooner or later in life and it's important to handle it the right way. This is hard because lot's of people don't understand what it means to have a mental illness. I'm not even sure you can understand it if you haven't suffered from one yourself. This causes people struggling one to feel weird and alone. By talking about it Jamie Tworkowski has opened a door for mental illness to be understood and for people to find the courage to reach out for help. In my opinion we need more people like him: kindhearted, real and helpful. With his words he has touched thousands of hearts and I'm sure he has saved a lot of lives, by giving mentally ill persons what they need most: hope.
I hope you're all enjoying your Sunday.
Love, Alli xx
TWLOHA Website : https://twloha.com/
Instagram :@jamietworkowski
@twloha
Pic Sources : http://religionnews.com/2015/06/01/to-write-love-on-her-arms-founder-wrestles-with-faith-questions-as-he-seeks-to-inspire-hope/
https://en.wikipedia.org/wiki/To_Write_Love_on_Her_Arms_(film)
https://twloha.com/ifyoufeeltoomuch/